FEPADE
signs
two
new
agreements
with
the
Ministry
of
Education
,
Science
 and 
Technology
(MINEDUCYT).
The two new agreements with MINEDUCYT are to continue with the improvement of schools in the country, these actions contribute to the improvement of educational quality by dignifying spaces and contributing to the teaching-learning process: 
Project: "Improvement of School Environment and Equipment in Schools with Social Vulnerability, at the National Level (PAPSES)" 
Within the scope of this agreement is to support 30 schools nationwide that present damage in the following areas: repair and/or change of roof cover, false ceiling, painting, kitchen, dining room, food storage, sanitary services, septic tanks, drains, electrical system, exterior works. It will also provide school furniture to the same number of educational centers. 
Project: "Infrastructure Repair in Schools Nationwide" 
It consists of repairing the infrastructure of up to 530 public schools that present damage in roof covering, false ceiling, painting, various repairs, exterior works, plumbing works, repair of the hydraulic system, electrical installations, and other works that are necessary and that are related to the activity of minor repairs. 
FEPADE continues to be certified under ISO 9001: 2015
For the eighth consecutive year, DQS carries out the follow-up audit on certification under ISO 9001: 2015 Quality Management Systems at FEPADE, and our certificate has been renewed for one more year. 
This certification allows and commits us to: 
Maintain the credibility and image of FEPADE. 
Increase the satisfaction of our customers.

 

Improve process integration.

 
Decision-making based on evidence.

 

Maintain a culture of continuous improvement.

 

Promote the participation of senior management and collaborators.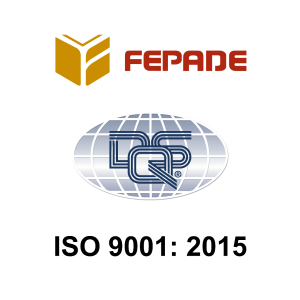 ISSUE

10, 2021

–
 

ABSÉ

 

PEDAGOGICAL

MAGAZINE
Didactic planning in hybrid environments
The Secretariat of Public Education of Mexico (SEP) transmitted, this year, a videoconference with Patricia Frola, specialist in didactic planning by competences, where she pointed out that the achievement of learning and competences is linked to the didactic strategies that teachers can design and adapt to the real conditions in which educational processes are being developed, whether they are hybrid, face-to-face or exclusively virtual. 
 You can see the full conference

In the Salvadoran experience, the practice of the teacher Loly López, from the Cantón El Amatal School Center, in the department of Sonsonate, was exposed, in which she explains the planning and execution of didactic sequences for the development of the learning situations that are exposed in the guides published by the Ministry of Education, Science and Technology. 
Loly López with some of her students.
New 

Sponsor: EDECSA

 

joins

 

the

 

Edubecas

 

family
EDECSA will start a scholarship program starting in January 2022 supporting high school students. 
Copyright © 2021
FEPADE. All rights reserved.
Calle El Pedregal y calle de acceso a Escuela Militar, Antiguo Cuscatlán, La Libertad, El Salvador, Centroamérica.